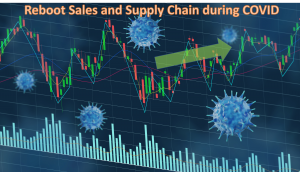 Rebooting Your business in 2022- What will this mean?
When I talk to business leaders in North America and Europe, it comes down to a few key elements – here, I would like to concentrate on just two essential aspects. – the lifeblood of any company -Sales and Supply Chain.
Putting to one side the challenges of remote working, getting staff re-engaged, and ensuring safety, let's look at the problems and processes to restart Sales and Supply Chain successfully.
First, let us consider the full scope of this challenge. To switch off a business and its supply chain, manufacturing, service delivery, and customer orders with Government or CEO directives is relatively simple, especially when lives are at risk – "you just do it". At an extreme, most business has evacuation processes for emergencies that are well-practiced. Most, if not all, have had no experience or tested processes to resume business after 2-5 months closure or operating at between 5% and 30%! And re-opening a business is anything but simple. And that was after lockdown but since many months we continue in unchartered waters. 
I have used the term REBOOT in the title of this article because this is more than a RESUME after the holidays. I'd like to use restarting a laptop as an analogy. 
Much like a laptop that had seven applications running each with ten windows/files open, often with several huge memory gobblers and has not had its programs and processes updated in a while and has been put to sleep hastily. A Sleep followed by Resume command will simply not work. It will not provide the agility and responsiveness that the user, or in this case, the market demands. It will ultimately risk a major CRASH, resulting in losses or worse that, dreaded "blue screen of death" that locks you out, potentially permanently, from your laptop (or in the case of your business, worse, the market).
So what are the elements critical in the REBOOT of the business-related explicitly to Sales and Supply Chain? As volatility continues and new normal is still blurred, a layer of Risk Management must be put on all plans.
For Sales – Existing stock. How can we turn this into cash? Are customer demand signals reliable short-term and medium-term? Do our terms and conditions, especially around lead time, minimum order quantity, pricing, payment, order confirmations, order cancellation/postponement, reflect the current risks. Are they competitive in the market place and can you work with them or do you need to flex some elements?
Supply Chain – Do we have enough visibility into the suppliers and their suppliers to assess the overall impact and risk accurately? Do you know the supply routes and understand the risks and the alternatives, including their options, cost, and risks? Have you re-evaluated the inventory positions not just against the current demand but also considering goods with shelf life and planned NPIs / product/service upgrades?
Has the REBOOT of the Sales Inventory Operational Plan SIOP really got the best foresight to make decisions on which sales orders have real demand with a line of sight to end customer and in the other direction line of sight to your suppliers and their suppliers or are they based on previous norms and hope? What does the operational SIOP look like when translated into the Profitability, Growth, and Cash Flow forecasts? Does it still make sense, or does the plan need to be adjusted before execution?
Businesses that try and operate as "Business As Usual", quickly find it is
"Business Unusal" and the risk levels with customers, suppliers and deals have changed. Each need looking at independantly and in greater detail as the SIOP for the first half of 2022 is finalised. Following the above questions and methodology is essential in navigating this process.
Jonathan Watt MBA, B.Eng (Hons) MCIPS has supported businesses over the last 30 years optimize their Strategy, Business Plans, Sales, Supply Chain and SIOP in start-up, turnarounds with SMEs and large multinational across Technology, Automotive, Aerospace, Rail, Industrial, Oil and Gas, Renewable Energy, Professional Services and Construction. Jonathan works with a broad network of like-minded professionals in UK, Europe, North America, Asia, and Australia. A Sales & Supply Chain Reboot Workshop can gain an understanding of key risk factors using advanced DD tools as well as providing you with a robust SIOP process to successfully restart this critical part of your business – can be facilitated remotely. Please message me to discuss details and options.
https://www.linkedin.com/pulse/reboot-sales-supply-chain-jonathan-watt
#Sales, #Supply Chain, #Recovery. #consultancy. #COVID-19, #SIOP, #Sales & Operational Planning, #Business Plannin